Your wedding day is a momentous occasion filled with joy, love, and unforgettable memories. As the groom, you deserve to look your absolute best, and selecting the perfect suit is an essential part of achieving that dapper look. Whether you're aiming for a classic, timeless style or a modern and trendy ensemble, this comprehensive guide will help you navigate the world of wedding suits, ensuring you make the right choice for your big day.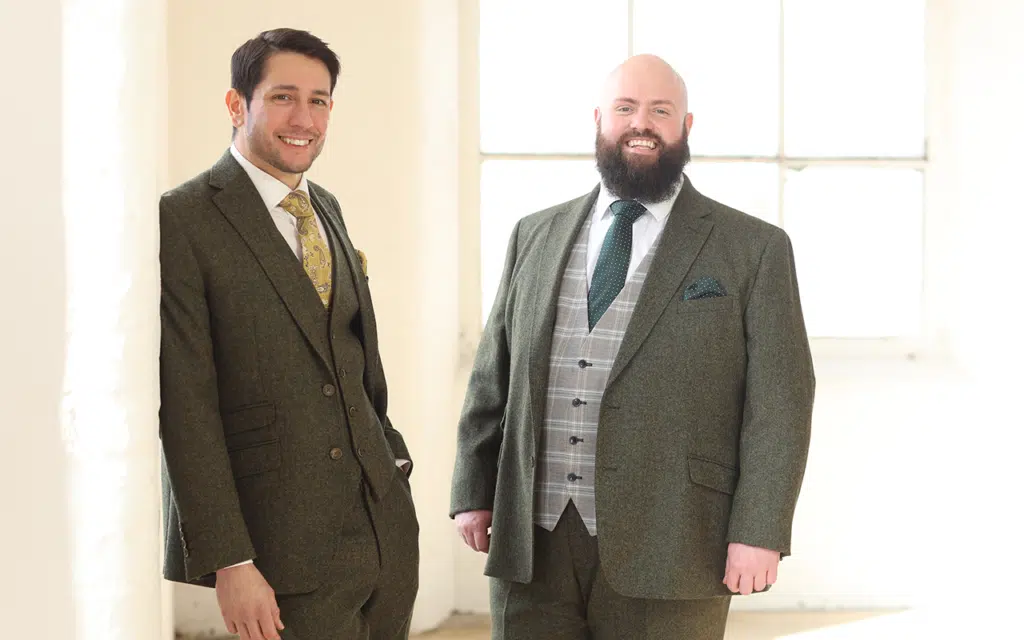 Know Your Suit Style
Before diving into the details, take a moment to consider your personal style. Are you more inclined towards traditional elegance, or do you prefer a contemporary and fashion-forward look? Understanding your style preferences will make the entire suit selection process much smoother.
Set a Budget
Weddings can be expensive, and it's crucial to establish a budget for your suit. Consider the quality, fabric, and tailoring costs when determining how much you're willing to spend. Remember, a well-fitted suit is worth the investment, as it will enhance your appearance and boost your confidence.
Consider the Wedding Theme
The theme and venue of your wedding can provide valuable cues for selecting the right suit. For a formal, black-tie affair, a classic tuxedo or a tailored black suit with a satin lapel is ideal. For a more casual or outdoor wedding, you might opt for a lighter-coloured suit or explore linen or seersucker fabrics for a relaxed yet stylish look.
Understand the Dress Code
Take note of the dress code specified on your wedding invitations. Whether it's black-tie, semi-formal, or casual, adhere to the guidelines to ensure you're appropriately dressed. If there's no specific dress code mentioned, consult with your partner and discuss the overall vibe you want to create.
Fit is King
The fit of your suit can make or break your entire ensemble. Nothing looks more sophisticated than a suit that fits you perfectly. Choose between a slim, regular, or relaxed fit based on your body type and personal preference. Consider visiting a reputable tailor who can ensure your suit is tailored to your exact measurements, resulting in a flawless fit.
Selecting the Right Fabric for Your Suit
The fabric you choose for your suit affects both its appearance and comfort. Traditional options like wool and tweed offer a timeless appeal, while lighter fabrics such as linen, cotton, or seersucker are great for warm-weather weddings. Experiment with textures and patterns to add visual interest to your suit.
The Colour of Your Suit Matters
Selecting the right colour for your suit is essential to complement your skin tone, the overall wedding colour scheme, and your personal style. Classic choices like navy, charcoal grey, and black are versatile and work well in most settings. For a more adventurous touch, consider shades like burgundy, deep green, or even light pastels, depending on the season and wedding theme.
Attention to Details
To truly make a statement, pay attention to the finer details. From lapel styles (notch, peak, or shawl) to pocket designs (flap, welt, or patch), these small elements can add personality and elevate your suit. Additionally, explore options for buttons, cufflinks, ties, and pocket squares that complement your overall look.
Coordinate with the Wedding Party
Coordinate your suit with the rest of the wedding party to create a cohesive aesthetic. Discuss colour schemes, tie choices, and accessories with your partner, groomsmen, and even the bridesmaids to ensure everyone looks well-coordinated and stunning.
Don't Forget about Comfort
Remember, you'll be wearing your suit for hours on your wedding day, so prioritize comfort. Opt for breathable fabrics, ensure a proper fit, and consider details like ventilation and mobility when selecting your suit. This way, you can enjoy your special day without feeling constricted or uncomfortable.
Choosing the right suit for your wedding is a significant decision that reflects your style, personality, and the overall ambience of your celebration. By considering factors such as your personal style, wedding theme, budget, and fit, you can find a suit that makes you look and feel exceptional on your big day. From classic to contemporary, remember to stay true to yourself, and let your wedding suit become an extension of your unique style and love story.
We can help you shine as much as the bride – just don't tell the bride!